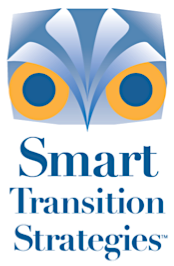 An Essential Step: Organizing Your "Stuff"
Is your house cluttered with de-cluttering books? ;–) Like many of us, your best efforts to organize your financial life may have gone astray as a result of a life transition. Smart Transition Strategies™ is here to help you efficiently channel your energy towards financial empowerment!
Life can get "messy" unless you take some time to get your financial ducks in a row! With financial organization in place, you will be ready for your next life phase and will have optimized the potential for the new energy that you (and the universe) can bring to it!
Here's quick checklist of ways in which we can help you get organized:
build a simple TRAF (toss, refer, act, file) system for gathering and sorting your documents into categories you and others will understand easily


organize your documents physically, perhaps in physical manila folders, three-ring loose leaf binders or (if a large number of files) in a rolling briefcase or portable file banker's boxes


summarize your current insurance and estate planning


identify and store your will(s), including living wills


build a storage "vault" (both digital and with good old-fashioned paper!) for communicating to family and friends essential financial information such as passwords and other account credentials
help you with a digital/online strategy for storing your paperless (and paper-full) documents securely in the "cloud" — and keeping printed backups of essential documents in safe places, too.
Smart Transition Strategies™ will help you organize and guide you through financial empowerment, whether you are single, married, widowed or divorced. Together we develop personalized solutions, we empathize with our clients and work together to implement personal financial plans.



Copyright ©2015–16 Nancy Goldfarb & Associates. All rights reserved.